Hervé Neukomm
Hervé is the Founder and Director of Puro Amazonas travel agency.
Born in Switzerland, he started his professional life working at Crédit Suisse bank but soon realized that was not the life style he desired. After working for a few years at Globetrotter travel agency, in 2004 he decided to leave Switzerland and go to Tibet on his bike, a destination he never reached due to weather conditions. Instead, he spent seven years cycling across Europe, the Middle East, Africa (where he also worked two years as safari guide in Namibia) and South America. He then spent 20 months alone on a bicycle boat cycling through 26 rivers and more than 7'500 kilometers from the Andes in Ecuador to Macapa (Brasil), the gates of the Amazon River in the Atlantic ocean, becoming the first human being to cross the whole length of the Amazon River on a boat powered by his legs (more info here). Since 2010 he has lived in Leticia, the main town of the Colombian Amazon, where he set up La Jangada Hostel & Tours and managed it during 4 years.
Hervé's leitmotiv is "consume less but consume better". Puro Amazonas promotes a model of responsible and purposeful tourism with two main objectives: On one hand, raise awareness amongst the local population of environmental issues affecting the Amazon and encourage them to preserve its enormous natural value. On the other hand, offer visitors and travellers a chance to get a better understanding and respect of the Amazon's culture, people, and natural richness.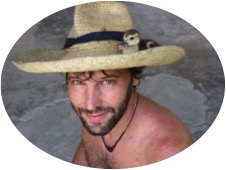 Adriana Bueno 
Founder and Director of Habitat Sur, a foundation that was born in the Colombian Amazon to promote initiatives with high social, cultural and environmental value focused on strengthening communities in the most vulnerable sectors of the population. She holds a BA in Governance and International Relations from the Externado University of Colombia, obtained an MSc in Political Science from Los Andes University (Bogotá, Colombia) and an MSc in Development Management from the London School of Economics LSE (London, UK). Her experience over 12 years working with marginalized communities in Colombia and India, both in the public and private sectors and with NGOs have given her knowledge and firsthand practice in the design, planning, implementation and management of high social impact projects.
Adriana is a highly motivated social entrepreneur who enjoys encouraging others to pursue their dreams and value the enormous capacity of any person to give to others and make a positive impact in their communities.